Do you find when you are out of your routine, the wheels just fall off in other areas of your life too?

Man, if the Summer isn't a reminder of how much I appreciate the "school-year routine", I don't know what is.

Seriously, I thrive on routines personally, as do my kids!! So I won't lie when I say, I'm pretty happy to be back into our school routine, as I think we all just get along better! You know what I mean?

I thought I'd share how I recalibrate myself, and our family, in getting things back s…
You need this journal. Plain & simple.
I'll explain why, thought, as everyone likes to know why they need this in their life.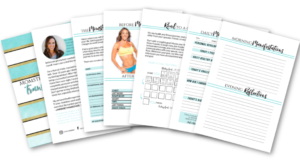 So let me ask you a few questions:
Have you tried every diet known to man? Yup, me too.
Have you tried every journal or even TRIED to get into journaling, but nothing had all the right things you need?
Do you have a journal for food tracking, then affirmations and maybe your to-do list?? Yah, me too!
Over the last 10…
Categories